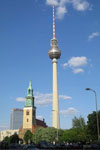 VIP Champagne Breakfast in the Berlin TV Tower
Price from £ 55
Book an unforgettable champagne breakfast in the Berlin TV Tower and enjoy a marvelous view over Berlin. Here you can admire the 360-degree panorama view of Berlin from 207 m above the city, enjoy a delicious breakfast and sip champagne!

Highlights:
- Skip the line to Berlin TV Tower
- You're guaranteed a window table
- Enjoy a delicious VIP breakfast menu
- See many of the major attractions in Berlin

Enjoy a Champagne Breakfast
From 203 and 207 meters high you can look out over the entire city with its large number of tourist attractions, such as the Reichstag (Parliament building), the Brandenburg Tor, the Main Railway Station, the Olympic Stadium, the Museum Island, Potsdamer Platz and more.

With almost 1.2 million visitors every year, the Berlin TV Tower is one of the most popular attractions for tourists in Berlin. Considering the large number of visitors, it is well worth booking your tickets from home!

Your VIP breakfast menu consists of: smoked fillet of pork, marinated salmon, North Sea crabs, cheese, fruit, jam, honey, butter, 2 bread rolls, 1 croissant, a glass of champagne (0,1l) and a glass of freshly squeezed orange juice (0,1l) as well as unlimited delicious coffee (choose between cappuccino, expresso, latte etc.)*

How do I get my tickets?
Shortly after your booking is complete your e-ticket will be sent directly to your email, just print it out and bring it with you to the TV Tower.
Please keep the e-ticket, as you will need the e-ticket when leaving the TV Tower, so please keep it safe.
How does it work?
When you arrive at the TV Tower, please hold the bar code imprinted at the top of your e-ticket in front of the scanner and then pass through the turnstile.

As a Champagne Breakfast guest, you get to skip the line to the elevator and go directly to the top of the TV Tower.

Where is the TV Tower located?
You'll find the iconic TV Tower at Alexanderplatz. The address will be on your e-ticket.

How long does the Champagne Breakfast last?
You have 90 minutes to enjoy your Champagne Breakfast in the TV Tower.
Are there children's tickets?
No, unfortunately, the TV Tower in Berlin does not offer children's tickets for the Champagne Breakfast.
Important information:
- Please note that changes in the menu may occur.
- Due to the Berlin TV Tower's interior, there is no access for wheelchair users and people with walking difficulties, i.e. people who cannot walk without assistance or without walking aids, such as crutches etc.