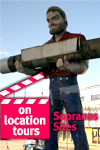 Sopranos Sites
Price from £ 44
Join the mob for a day and visit the locations from the Sopranos series in New York.
Take a trip through Sopranoland! This four hour guided tour will take you through New Jersey´s Sopranoland, all the way form the Garment District in Manhattan. You´ll hear snippets of Sopranos trivia and behind the scenes info and "not to fuhgid aboud" mafia talk. You´ll also stop at the restaurant from the final episode!
The tour departs near Times Square in Manhattan and takes you straight through the tunnel into Sopranoland: New Jersey. Here you´ll see the locations from the series as the guide fills you in on everything Soprano.
Join the mob and stop at Bada Bing. Check out Barone Sanitation, Tony´s legitimate busienss! Sit onthe steps of the diner where Chris was shot and visit the spot where Big Pussy spoke with the FBI.
You´ll also stop at Father Phil´s Parrish and have the chance to sit in the restaurant booth where Tony sat in the final scene of the series.
Departs: Saturday at 10 AM at Button Sculpture (Seventh Ave. & 39th St.) Look for a tour guide with a blue umbrella

Children: Must be 13 or older to take this tour

Duration: Approximately 4 hours

Important:
- The Tour is in English!
- The tickets will be sent to your e-mail address as soon as you have completed your booking ad payment online
- Departure from Button Sculpture (Seventh Ave. & 39th St.) Look for a tour guide with a blue umbrella
- Please be there 15 minutes prior to departure!
- Tickets are only valid on chosen date!
- Children must be 13 or older to attend this tour