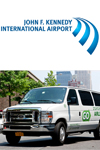 JFK Airport Transfer
Price from £ 18
Instead of dealing with the hassle of public transport or the stress of trying to flag down a taxi, opt for our affordable shared airport transfer, so that your holiday in New York can begin as smoothly as possible. You will be able to take a transfer shuttle van from JFK airport (John F. Kennedy) straight to your hotel.
Highlights:
- Relax with easy and hassle-free airport transfers
- Share a minivan with others and save money
- You can arrange pick-up 24 hours a day, 7 days a week
- The price includes tips, road tolls, and taxes
Quick and Easy Airport Transfer
Wether you are travelling alone, as a couple or as part of a larger group, our professional drivers will ensure a smooth journey to and from JFK airport!
On our site you can book quick and efficient transport between JFK ariport and your hotel in Manhattan. Our door-to-door policy ensures your transportation both ways between JFK Airport and your hotel.
Book your shared JFK airport transfer, and you will be able to go straight from the airport to your hotel by mini-van. You can also book return return transport if you like, from your hotel in Manhattan to the airport.
How do I book my transfer?
Simply follow the booking process step by step.

How do I get my tickets?
Shortly after you have completed your booking online, you will receive an e-ticket by mail. Please print the e-ticket and bring it with you to New York to hand in at the airport.

What is the procedure once I arrive at the airport?
Once you arrive at the airport, please go to the Ground Transportation Desk located inside the arrival terminal. Here you will receive all the necessary information regarding your transport between the airport and your destination in New York City with one of our minivans.

How do I book a return transfer?
If you wish to order the shared JFK Airport transfer in both directions, you have to place two orders: One from the airport to your hotel and one from your hotel to the airport, as every booking needs its own separate confirmation number.

I've booked a return transfer, how does it work?
Once you have booked your return transfer from Manhattan to the airport, you just have to call our airport agent two-three days before your scheduled departure. The phone number will be clearly marked on your ticket.

Where does the shuttle service operate?
This service only operates to addresses in Manhattan located between Battery Park and 125th street.

How much luggage can I bring?
You are only allowed one standard suitcase and one piece of hand luggage per person.

What's included in the price?
The price of the shared JFK airport transfer includes tips, road toll, and taxes.

Are there children's tickets?
No, the price is the same for children as for adults, but children under age 4 are free of charge.

Are there car seats available?
No, if you're traveling with children under the age of 4 you must bring your own car seat.

Important information:
- Only use or get into a minivan clearly marked GO AIRLINK NYC.