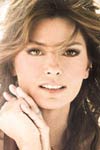 Shania: Still The One - Las Vegas
The Colosseum - Caesars Palace
Price from £ 86
Get ready to be impressed! Superstar Shania Twain hits Las Vegas in her all-new residency show in The Colosseum at Caesars Palace. Tickets for Shania Twain in concert in Vegas here!

Shania: Still The One will bring the timeless classics and musical talents of the world renowned Shania Twain to the forefront. From this moment on, Las Vegas will never be the same. Share in a concert event that will have Las Vegas swaying and singing all the Shania favorites, "That Don't Impress Me Much " and "Man! I Feel like a Women ". Then, there are the heartfelt love songs that captured a generation "From This Moment On " and "Still The One ".

Shania Twain, the Country Music's most famous artist, will captivate audiences in a performance that can only be produced in the city of Las Vegas!