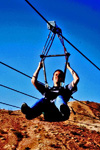 Zip Line Adventure Tour with FlightLinez Bootleg Canyon
Price from £ 134
Looking for something different and fun to do outside Las Vegas? Do you crave exciting outdoor adventures? Then come on an thrilling zip line adventure with Flightlinez Bootleg Canyon!

With over 1.5 miles of zip line over the course of four separate runs, you should get ready to experience the rush!

You'll get to enjoy the scenic desert landscape and vast blue skies. The canyon is home to red-tail hawks, chuckwallas, Big Horn sheep and more, so wildlife sightings are common on the tours.

Highlights:
- Enjoy a unique new way to experience the outdoors: 'Aerial Trails'!
- Learn about historic Bootleg Canyon and Boulder City
- Enjoy breath-taking scenic views
- Breathe in the mountain air as you challenge your hiking skills
- Catch a glimpse of the desert wildlife

Duration: 3 hours

Important information:
- Shortly after your booking is complete, you will receive an e-ticket by email. Please print out your ticket and bring it with you on the tour.
- The tour starts from the Excalibur Hotel from the tour rotunda in the back of the casino.
- Children must be 16 years and older to try zin lining.
- Please note: Weight limit is 75-250 lbs. (34-92 kg).
- Please note: You cannot be intoxicated while zip lining.
- You must wear tennis shoes, hiking shoes or boots.