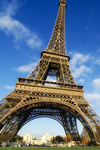 Eiffel Tower - Skip the Line
Price from £ 43
Outsmart the other tourists and avoid the long lines at the Eiffel Tower! Buy your skip the line tickets for the Eiffel Tower from home and avoid having to queue up for 2 to 4 hours. Take the lifts to the second floor and enjoy the amazing views over Paris.

Highlights:
- Jump que queues at the Eiffel Tower and save time
- Once on the tower stay for as long as you like
- Priority access ticket to the 2nd floor of the Eiffel Tower
Save Time and Skipe the Line!
You simply book your ticket with us online and on the day of your visit meet with our guide under the Eiffel Tower to collect your priority access ticket to the Eiffel Tower. You will then be escorted right to the priority entrance, so you can skip the line and spend your time exploring the Eiffel Tower instead of standing in a queue!

Your tickets give you acces to the second floor of the Eiffel Tower, without having to queue up. If you wish, you can buy a ticket for the summit (the 3rd floor) at the ticket window on the 2nd floor and continue up on your own.
If you do decide to buy tickets to the top at the ticket booth on the 2nd floor, you can expect to encounter some queing time.
With more than 7 million people entering every year, the Eiffel Tower is one of the most visited monuments in the world. You'll definitely appreciate saving time on your Paris trip by not having to queue up for 2 to 4 hours with your skip the line tickets!

If you would like a guided sightseeing tour of Paris before your trip to the Eiffel Tower, then our Eiffel Tower & Sightseeing Tour might be what you're looking for!

Don't be late!
Your ticket will only be valid on the exact date and at the exact time that you book it for. The Eiffel Tower personnel will refuse your entrance if you are not on time!
How do I get my tickets?
When your booking has been confirmed and e-ticket/voucher will be sent directly to your email. Just print it out and bring it to the meeting spot to hand to the guide in exchange for the tickets.
How long can I stay on the Eiffel Tower?
You can stay for as little or as long as you like.
Are there children tickets available?
No, but children under the age of 4 are free when accompanied by a paying adult.