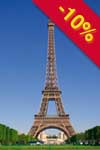 Eiffel Tower - Skip the line & Sightseeing Tour
Price from £ 54
See the best of Paris and visit the iconic Eiffel Tower all in one tour! This tour combines an informative sightseeing bus tour with a visit to the second floor of the Eiffel Tower. Avoid the long lines at the Eiffel Tower - book your tickets from home!
Highlights:
- Enjoy an hour long sightseeing tour of Paris
- Avoid the chaos and long queues at the Eiffel Tower
- Your guide will take you straight to the lifts
- Learn more with a free audio commentary headset
Discover the Beauty of Paris
The tour starts with an hour long tour of the historical center of Paris in an air-conditioned double decker luxury coach, accompanied by a professional guide. The tour ends at the Eiffel Tower, where there is usually a fair amount of chaos and queues. With this tour you´ll just arrive at the foot of the Eiffel Tower, jump the long lines and start the ascent to the 2nd floor.
With audio commentaries (available in 15 languages including English, Spanish, French, German, Italian, Dutch), you will learn about the history of Paris while admiring its main squares, bridges, high streets, arquitecture and monuments.
The sightseeing tour ends at the foot of The Eiffel Tower, where you will avoid the massive lines and go directly to a lift for a ride up to the 2nd floor of the Eiffel Tower, from where you´ll be able to enjoy a wonderful panoramic view of Paris. And if you wish, you can buy tickets to the 3rd floor of The Eiffel Tower on this floor and continue up on your own.
Bus tour highlights: The Opera Square, Concorde, Champs-Elysees, Arc de Triomphe, Trocadero square, Invalides, Pont-Neuf, Bastille Square and the opera, Notre-Dame cathedral, Luxembourg gardens, Saint-Germain des Prés and of course The Eiffel Tower.
How do I get my tickets?
Shortly after your booking has been completed your e-ticket will be sent directly to your email. Simply print it and bring a copy to Paris.
Where does the tour begin?
The tour departs from our agent PARISCityVISION's office. Please be sure to arrive at least 30 minutes before departure.
How long does the tour last?
The tour lasts approx. 3 hours, depending on how long you spend at The Eiffel Tower.