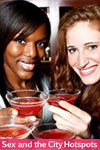 Sex and the City Hotspots
Price from £ 39
Follow Carrie´s footsteps with a Sex And The City tour in New York! See all the famous sites and New York hotspots from the show! It´s a must for any Sex and the City fan!
Highlights:
- Discover New York following a true Sex and the City style!
- Enjoy a 3 and a half hour guided tour of all the famous sites
- Visit over 40 locations
- Buy our VIP tickets and sit at the front of the bus
The Ultimate Sex and the City Tour
Want a taste of the life of the most famous single girls in New York? Then you´ll love our Sex and The City Tour where you´ll feel like our favourite characters Carrie, Samantha, Miranda and Charlotte.
During the tour you will visit the restaurant where the girls wine and dine, sip on some tasty Cosmopolitans and be tempted by the most amazing shoes!
Throughout the tour you´ll visit over 40 locations with plenty of stops along the way. See the shop where Charlotte bought her 'Rabbit'. Stop at Aiden and Steve´s bar Scout and enjoy cupcakes like Carrie and Miranda and see Charlotte´s gallery!
You will also have the chance to visit some brand new locations from the new film Sex and the City: The Movie and Buddakan, where Carrie and Big held their rehearsal dinner.
The tour is available in English.
How do I get my tickets?
Shortly after completing your booking you will receive an e-ticket by e-mail. Please print out the e-ticket and bring it with you to the meeting point.
When does the tour run?
The tour operates daily at 11:00 AM and 15:00 PM. Please arrive at least 15 minutes before the departure time.
Where does the tour begin?
The tour departs from the Pulitzer Fountain (West side of 5th Avenue between 58 59th Street). Look for a tour guide with a blue umbrella.
How long does the tour last?
The tour lasts approximately 3.5 hours.
How long are my tickets valid for?
Your tickets are only valid on the chosen date you select online.
Is there an age limit for this tour?
Yes -minimum age 13 years old.
What do the VIP tickets include?
The VIP tickets offer priority boarding on the bus and guarantees a seat in the first 5 rows with close access to the tour guide.