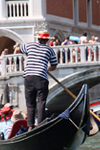 Secret Venice with Gondola Ride
Price from £ 66
Join us for a guided walking tour of the less seen side of beautiful Venice, hear about some of the local legends and end your tour with a romantic gondola ride on the quieter back canals of Venice.
Highlights:
- 2 h 25 min. guided walking tour of Venice
- Relax on a shared gondola ride with a real local 'gondaliere'
- A maximum of six people per shared gondola
- Everything is pre-arranged, we take all the hassle out of your time on the water
- Guaranteed small tour group of max. 24 people
Experience a Different Side of Venice
Let your guide lead through the quieter streets and piazzas of Venice. As you walk, your guide will tell you with histories among other things about Ca'Dario, the cursed (and possibly haunted) house whose owners have continuously met untimely and often suspicious deaths.
Along with local legends, you'll hear some tales of familiar characters. You'll see Harry's Bar across the canal where Ernest Hemmingway once kicked back after a long day of writing. You'll see the home of Peggy Guggenheim, the heiress who lost her father to the Titanic but gained the means to build one of the world's most interesting art collections.
The tour ends on the sweet note with a gondola ride along the quieter back canals of Venice. Relax as a gondolier, in his iconic striped shirt, sails along waterways built for these very vessels. With a maximum of six people per shared gondola, your tour will be intimate and romantic.
The tour is operated in English.
How do I get my tickets?
Shortly after your booking is complete your e-ticket will be send directly to your email, just print it out and bring it on your tour.
Where does the tour begin?
The tour starts in front of the white marble Venetian Academy of Fine Arts.

How long does the tour last?
The tour lasts 2.25 hours.
Are there children's tickets?
Yes, children's tickets are available for children between age 0-14.

Important information:
- The tour ends at Santa Maria del Giglio Gondola point in Campiello Traghetto near the Gritti Palace hotel on the San Marco side.
- We regret that we are unable to accommodate guests with wheelchairs or any impairments requiring special assistance. We are also unable to accommodate strollers or baby carriages on our group tours.
- Please note that the Gondola ride cannot operate during heavy rain or adverse weather.