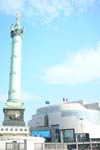 Opera Bastille Paris
Price from £ 237
The Opéra de la Bastille or more commonly Opéra Bastille, also known as the New Opera House in Paris is mostly performing operas. The opera house was inaugurated in 1989. Here you can book tickets for Opéra Bastille with or without dinner!

Opera Bastille is the main facility of the Paris National Opera, France's principal opera company, alongside the older Opera Garnier. Most opera performances are shown at Opera Bastille along with some few ballet performances and symphony concerts, while Opera Garnier presents a mix of opera and ballet performances.

Important Information:
- Your tickets is on request, so it will take up to 48 hours before we can confirm your booking. If your booking is confirmed we will send your voucher/e-ticket(2 voucher/-tickets if you have booked the dinner package) to your e-mail address as an attached PDF fil, and then withdraw payment on your credit card. If the performance is sold out, we will e-mail you and release/refund the payment we have captured one your credit card.
- If confirmed you absolutely need to print your voucher/e-ticket(s) and bring copies to the opera house and/or restaurant, as you will NOT be accepted entranced without a printed copy of your voucher/e-ticket(s)

- PLEASE NOTE: The price you find here is higher than the price printed on the ticket. The price you find here is included booking and handling fee to the opera house, our agent and us. This results in a higher price for tickets booked here, than directly at the opera house, but we often have tickets that is sold out at the opera house. If you do not want to pay a booking and handling fee, please do not proceed with your booking!