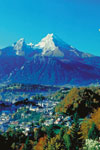 Day trip to Berchtesgaden and Eagle's Nest
Price from £ 50
Join us for a scenic drive along the German Alpine Road through impressive valleys to Berchtesgaden. Once up on the Obersalzberg mountain, you have the opportunity to visit the NS(National Socialism/Nazi)-Documentation Center (admission not included - additional €17,50).

A special bus and an elevator tunneled straight through rock then bring you up to the Eagle's Nest (usually open by the middle of May), built by the Nazi party for Hitler's 50th birthday. (admission not included - additional €18,00).

In the event of bad weather conditions such as snow, ice or fog, the tour will take you to the famous Berchtesgaden salt mine instead.

The tour is operated in German and English.

How do I get my tickets?
Shortly after your booking is complete your e-ticket send directly to your email, just print it out and bring it on your tour.

Where does the tour begin?
The tour departs from Bahnhofplatz in front of the department store Karstadt. Please show up 20 minutes before the departure and find a seat on the bus.

How long does the tour last?
Berchtesgaden and Eagle's Nest Tour lasts 10 hours.

Are there children's tickets?
Yes, children's tickets are available for children between age 4-14. Children under 4 are free if they share a seat with an adult.