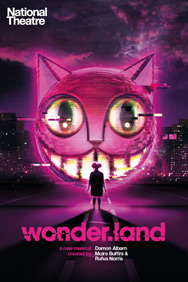 Wonder.Land
Olivier Theatre, National
Price from £ 50
Welcome to Wonder.Land, where you can be exactly who you want to be. The brand new musical is based on Lewis Carroll's iconic Alice in Wonderland.

Highlights:
- Experience a modern version of Alice in Wonderland
- Pick your own seats
- Book tickets online and save time

Experience a New Kind of Wonder.Land
Aly loves this extraordinary virtual world she finds online. While being constantly bullied at school and unhappy at home, Wonder.Land offers an escape for 12-year-old Aly.

Online, Aly becomes Alice: brave, beautiful and in control. But some of the people she meets – the weird Dum and Dee, the creepy Cheshire Cat, the terrifying Red Queen – seem strangely familiar. And as hard as Aly tries to keep them apart, real life and wonder.land begin to collide in ever more curious and dangerous ways.

How do I get my tickets?
Shortly after your booking is complete, you will receive an e-ticket by email. Please print out your ticket and bring it with you to the theater.