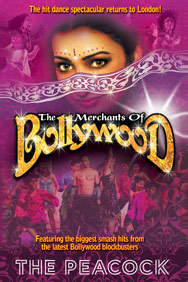 The Merchants of Bollywood
Peacock Theatre
Price from £ 58
The Merchants of Bollywood is a riot of swirling colours and sensational dance numbers choreographed by one of Bollywood's top choreographers, Vaibhavi Merchant.

Highlights:
- Secure your tickets to The Merchants of Bollywood
- Choose your own seats
- Enjoy a spectacular musical experience

Enjoy The Merchants of Bollywood
An homage to the world's largest and most prolific film industry, it's packed full of musical hits, featuring a score by the award-winning duo Salim and Sulaiman Merchant.

Seen by over two million people worldwide, this turbo-charged "huge blast of fun", quote the The Times, continues to evolve with tributes to the latest Bollywood blockbusters.

How do I get my tickets?
Shortly after your booking is complete, you will receive an e-ticket by email. Just print out your ticket and bring it with you to the theater.