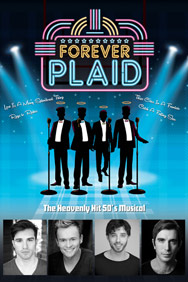 Forever Plaid
The Other Palace - Studio
Price from £ 32
Join the boys of Forever Plaid on a humorous and musical journey through some of the greatest close-harmony songs of the 50's. Experience the classic hits of the 1950s in pitch-perfect harmony!

Highlights:
- Ensure your tickets to this entertaining musical
- Get the best available seats in your chosen category
- Enjoy the classic hits of the 1950s

What's Forever Plaid about?
With one final chance to give the concert they never gave, The Plaids sing nostalgic hits "Rags To Riches", "Love is a Many Splendored Thing", "Catch A Falling Star", "Three Coins In A Fountain" and many more – all in glorious harmony with patter that will keep any audience rolling in the aisles. Enjoy a drink at the beautiful St James Studio Theatre, whilst The Plaids deliver a 50's roller-coaster ride of comedy and music in this classic musical.

Forever Plaid is originally an off-Broadway musical revue written by Stuart Ross in New York in 1990 and is now performed internationally.

How do I get my tickets?
Shortly after your booking is complete, you will receive an e-ticket by email. Just print out your ticket and bring it with you to the theater.