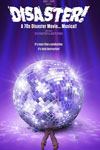 Disaster!
Nederlander Theatre
Price from £ 86
Disaster! the Musical in New York is a true 1970's disaster movie musical featuring the best music of the 70's! Just when you thought it was safe to go back to the theater comes Broadway's new musical comedy Disaster! the Musical. Expect a colorful musical with 70's music, clothes, and style!

Highlights:
- Experience a colorful musical packed with hits
- Get the best available seats in your chosen category
- Sing along to songs like Hot Stuff, Knock On Wood and I Am Woman

What is the Diaster! about?
The year is 1979. All the hottest New York City A-Listers are putting on their platform shoes and polyester disco shirts and heading to the grand opening of Manhattan's first floating casino and discotheque. Little do they know that the pier built to house the huge boat was drilled into the center of a dangerous and unstable fault line.

Who will survive? The greedy tycoon? The aging showgirl and her 11-year-old twins? The washed-up disco star? The disaster expert still mourning the loss of his wife? The nun with the gambling addiction? The older couple with a terrible secret?

Your favorite songs and disasters from the 70's
In Disaster! you can enjoy your favorite songs from the decade: Hot Stuff, I Am Woman, Knock On Wood, Daybreak, Signed, Sealed Delivered, and many more!
Disaster! also features a range of favorite disasters from the decade: Earthquake, tidal wave, infernos, killer bees, rats, sharks and piranhas.
How do I get my tickets?
Shortly after your booking is complete, you will receive an e-ticket by email. Just print out your ticket and bring it with you to the theater.

Important information:
- When booking tickets for a musical in New York, you will always be granted best seats available at the time of your booking. We have no influence on the exact seat and row number, as it is solely the theater that can appoint the seats. Within 36 hours after you have received your first booking confirmation, you'll receive an additional confirmation with your exact seats. These cannot be changed or altered as they were the best available seats at the time of your booking.