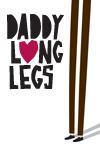 Daddy Long Legs
St James Theatre
Price from £ 58
Daddy Long Legs, the two person musical in London. You can book your tickets for Daddy Long Legs in Londons West End here!

Daddy Long Legs is written by Multiple Tony Award and Olivier Award winning director John Caird and Tony Nominated Composer Paul Gordon, continues to tour the country to glowing reviews and standing ovations.

With an emphasis on story-telling over special effects, the musical's romantic story and lyrical score are thrilling audiences all across the country.

Daddy Long Legs continues to prove that you don't need overblown budgets and dazzling special effects to achieve the emotional heart that this musical succeeds in delivering night after night.