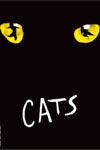 Cats
Neil Simon Theatre
Price from £ 56
The award-winning musical Cats is finally back on Broadway. Don't miss this legendary musical composed by Andrew Lloyd Webber and adapted from T.S. Eliot's 1939 collection of poems "Old Possum's Book of Practical Cats".

Highlights:
- See the world-famous musical Cats
- Get the best available seats in your chosen category
- Enjoye smash hit songs like Memory live on stage

What is Cats about?
It is the night of the Jellicle Ball, during which Old Deuteronomy will select the cat to go to the Heaviside Layer and be reborn to a new Jellicle life. The story follows the individual quests of each cat of the tribe to be the lucky chosen one, who will come back to a new life. Just as the cat Grizabella sings in the hit tune Memory: "Let the memory live again!"

How do I get my tickets?
Shortly after your booking is complete, you will receive an e-ticket by email. Just print out your ticket and bring it with you to the theater.

Who is the team behind?
The world-famous English composer Andrew Lloyd Webber is behind Cats. The creative team for the new Broadway production includes Mick Potter (Sound Design), Natasha Katz (Lighting Design), John Napier (Scenic & Costume Design), choreography by Andy Blankenbuehler, based on the original choreography and associate direction by Gillian Lynne, and direction by Trevor Nunn.

Did you know this about Cats?
The original Broadway production opened in 1982 at Broadway's Winter Garden Theatre, where it ran for 7,485 performances over an incredible span of 18 years.

Important information:
- When booking tickets for a musical in New York, you will always be granted best seats available at the time of your booking. We have no influence on the exact seat and row number, as it is solely the theater that can appoint the seats. Within 36 hours after you have received your first booking confirmation, you'll receive an additional confirmation with your exact seats. These cannot be changed or altered as they were the best available seats at the time of your booking.