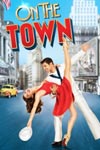 On The Town
Lyric Theatre
Price from £ 92
Experience the classic musical On The Town on Broadway in New York. Book your tickets from home and join three sailors with only 24-hour shore leave in New York as they are swept off their feet by three beautiful New York women for one amazing night On The Town!

Highlights:
- Ensure your tickets to this lovely musical
- Get the best available seats within your chosen category
- Experience the classic NY musical
- Enjoy the biggest orchestra on Broadway

What is On The Town about?
With the biggest orchestra on Broadway and a 30-member cast of New York's most talented singers and dancers, On The Town tells the story of three wide-eyed sailors on a whirlwind musical tour of the city that never sleeps.

With just 24 hours of shore leave, they're eager to experience all that New York City has to offer…including a chance to discover love with the girl of their dreams.

How do I get my tickets?
Shortly after your booking is complete, you will receive an e-ticket by email. Please print out your ticket and bring it with you to the theater.

Who is the musical suitable for?
On The Town is recommended from age 8 and up. Children under age 4 are not permitted in the theater.

How long is the musical?
On The Town lasts 2 hours and 30 minutes, including intermission.

Important information:
- When booking tickets for a musical in New York you will always be granted best seats available at the time of your booking. We don't have any influence on the exact seat and row number, as it is solely the theater that can appoint the seats. Within 36 hours after you have received your first booking confirmation, you'll receive an additional confirmation with your exact seats. These cannot be changed or altered as they were the best available seats at the time of your booking.