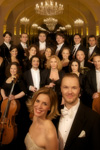 Schönbrunn Palace Concerts
Price from £ 41
Join us for a night filled with classical music concerts at Schönbrunn Palace Orangery in Vienna with a program by Wolfgang Amadeus Mozart and Johann Strauss.

At the historic Baroque Orangery of Schönbrunn Palace, the Schönbrunn Palace Orchestra Vienna (April to October & Christmas) or the Schönbrunn Palace Ensemble Vienna (January to March and November to December 23) alternate to perform the most beautiful pieces of music ever written by Wolfgang Amadeus Mozart and Johann Strauss.

You find the Schönbrunn Palace Orangery's seating plan here. You can choose between four categories of tickets: VIP, A, B og C, refering to the front, middle and back of the auditorium respectively.

The first part of the concert features selected overtures, arias and duets by Wolfgang Amadeus Mozart, such as "The Marriage of Figaro", "The Magic Flute" and "Don Giovanni". After the intermission, let the orchestra delight you with the most memorable operetta arias, waltzes and polkas by Johann Strauss, the King of waltz, including "The Bat", "The Gipsy Baron", "The Blue Danube Waltz" and the "Radetzky March".

Two opera singers, a soprano and a baritone, as well as a captivating ballet couple in historic dress will round out the evening.

Important information:
- Shortly after your booking is complete, you will receive your e-tickets via e-mail. Please print out your ticket and bring it with you to the Orangery, where you have to exchange it to your tickets. You can exchange your e-tickets from 9:00 AM only on your booked tour date.
- Duration incl. intermission is 1½-2 hours, and ends approximately 10:15 PM.
- During the intermission, VIP guests will receive a glass of complimentary sparkling wine at the bar.
- On selected days, concerts may take place in the Great Gallery or the White Gold Room located inside Schoenbrunn Palace or in other concert halls in Vienna. You will of course be advise if change of concert venue happens.
- After the Schönbrunn Palace Concerts, taxis will be available right outside Schoenbrunn Palace Orangery. The subway runs until midnight in five-eight minute intervals.