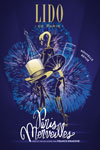 Lido de Paris
Price from £ 84
Lido de Paris, located on Avenue des Champs-Elysées, is one of the most famous cabarets in the world. Combine a delicious pre-show meal with this amazing cabaret and burlesque show, or just the show with champagne. Make sure you book in advance and keep in mind that weekend shows sell out fast!

Highlights:
- See the impressive new show at Lido de Paris
- Choose between show and champagne or show and dinner
- Enjoy the entertainment of a French cabaret that's out of this world
New Show: Paris Merveilles

Incredible energy has gone into assembling an international team of performers, dancers, musicians and designers to produce a show that is packed with artistic and technical innovation.

The show draws its inspiration from the Art Nouveau genre and uses classic icons such as Paris' 'Iron Lady', better known as the Eiffel Tower. The set changes follow one another at a furious pace portraying a series of famous Parisian sites.

Somewhere between dream and reality, you will discover a Paris that you have never imagined existed.
We offer 3 ticket types - tickets for the show & champagne and tickets for dinner & show. * ½ a bottle Champagne Brut 1er cru is included in the price for both shows with or without dinner (Minus Soirée Plume menu).
New: For either show you may now also choose a show & glass of Champagne (only) option.
You can see the different menu types here: Etoile menu, Champs-Elysées menu, Soirée Plume menu, Triomphe menu.
How do I get my tickets?
Shortly after completing your booking online you will receive a voucher by e-mail. Simply print this voucher and bring it with you to the Lido.

When does the show start?
There are two shows a day, at 21:00PM and at 23:00. If you book dinner+ show, dinner will be served at 19:00 and the show will begin at 21:00 h.

Regardless of whether you book the show with or without dinner, we recommend arriving at the Lido at least 30 minutes before the show is due to start.

What is the duration of the show?
The show lasts for 1 hour and 45 minutes.
Is there a dress code?
Yes, the dress code is casual and business casual. Tie, suits or dresses are optional. Jeans, shorts and sport shoes are not allowed.
May children attend the show?
The Lido de Paris is not suitable for children, and children under 4 years will not be admitted.
Important information:
- Lido de Paris is very popular, and can often be sold out months in advance on Fridays and Saturdays. So the sooner you book the better the chance of getting tickets for desired date. If you are able to visit the Lido de Paris during the week, you´ll have better better chances of getting tickets