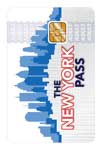 The New York Pass
Price from £ 92
The New York pass allows you to save both time and money while sightseeing in New York. The New York Pass grants you free access to over 80 attractions, and without having to queue up at some of the busiest and most popular ones!
Highlights:
-Free entry to over 80 attractions
-Jump the queues to some of the busiest attractions
-Pre-book your spot on popular tours
-Includes a free guide book
-You can download a free New York Pass app
-The pass includes a 24 hr bus ticket for the Hop-On Hop-Off Big Bus Sightseeing (Uptown & downtown loops)
The Pass that Opens up New York City to its Visitors
The New York Pass is like a credit card with a chip inside that allows cash-free access to over 80 popular tourist attractions in The Big Apple. It´s a bit like an acces all areas card that allows you to enter some of the best attractions without having to pay, and the more sights you see, the more money you save!
It also offers the convenience of not having to queue up at some of New York´s busiest attractions, tours and museums, like:
-The Museum of Modern Art (MoMA)
-The Guggenheim Museum
-Top of the Rock
-Circle Line Sightseeing Cruises
-The Metropolitan Museum of Art
-Madame Tussauds New Yrok
-many many more!
Just look for the New York Pass signs and show the attandant your New York Pass. They will swipe the card through the New York Pass card reader and let you through!
New York is packed with visitors all year round, and the most popular tours often sell out far in advance, especially at the weekends. However, with the New York Pass you´ll be able to make sure don´t miss out by securing a spot in advance.
You can book most of the tours included in the Pass in advance by using the pass number. You can find a list of attractions that allow you to book ahead here.
How do I obtain my New York Pass?
Shortly after completing your booking online you will receive a voucher by e-mail. You will need to print the voucher and take it to the Big Bus Welcome Center where you redeem it for your New York Pass.
How do I activate my New York Pass?
The pass activates upon its first use and records when, where and how long it will remain valid.
How long is my New York Pass valid?
The New York Pass is valid for either 1, 2, 3, 5, 7 or 10 consecutive days depending on the option you choose.

It is important to note that a 'day' is based on a calendar day, not a 24 hour period.

Can I visit the same attractions more than once?
No, you can only visit each attraction once with the New York Pass.

How do I book a tour in advance?
To book a tour in advance, you will need to contact each attraction directy by phone, e-mail or online. You will have to check the website for each attraction to find the information on how to book. Read more here.

Are there children's passes?
Yes, there are children's passes for those aged between 4 and 12. Children under the age of4 are free when accompanied by a paying adult.