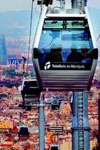 Montjuic cable car
Price from £ 12
Travel to the top of Montjuïc Hill where you'll be able to enjoy unbeatable views of the port and Barcelona city. The recently refurbished Montjuïc Cable Car is a different way to get to the top of Montjuïc Hill and provides a fantastic view of the city.
Highligts:
- As you ride on the Montjuïc Cable Car you'll be able to enjoy the finest panoramic views of Barcelona.
- The cabins carrying 8 passengers seated, so you can enjoy the view without the crowds.
- Travel from Parc Montjuïc to Mirador (midway station) to the Montjuïc Castle.
How do I get my tickets?
Shortly after your booking is complete your e-ticket send directly to your email, just print it out and bring it to the cable car box office at Avinguda Mirarmar 40, where you will get it exchanged for your ticket.

Where do I find the Montjuic Cable Car?
You find the Montjuïc Cable Car at Parc de Montjuïc station at Avinguda Miramar opposite the Montjuïc Municipal swimming pool.
Are there children's tickets?
Yes, children's tickets are available for children between age 4-12. Children under 4 are free, when accompanied by a paying adult.