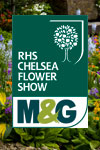 Chelsea Flower Show
Price from £ 80
Once again Royal Horticultural Society & Chelsea Flower Show open the doors for the many thousands and thousands of garden and flower enthusiasts that every year travel to London to see the beautiful flowers, gardens and other exhibitions.
To many enthusiasts Chelsea Flower Show is considered the most beautiful of all flower shows around Europe and surely Chelsea Flower Show is one of the best!

Normally Chelsea Flower Show sell out fast, and as it is not possible to buy tickets at the entrance to the show, we strongly recommend to buy your tickets before you leave home!

Our tickets are Full Day Tickets , meaning you can arrive when you like and stay as long as you like until the show closes for the day.

IMPORTANT INFORMATION:
After completing your booking your will receive an e-ticket/voucher , sent to your inbox. This voucher needs to be exchanged to your original Chelsea Flower Show tickets at our agents office in central London . Tickets can be collected from the day before you are going to the show or on the same day from 9:30. Address, opening hours and other useful information will be clearly stated on the e-ticket/voucher you will receive immediately after you have completed your booking.