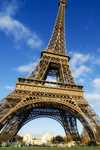 Eiffel Tower - Skip the Line
Price from £ 11
Skip the line to the Eiffel Tower! Outsmart the other tourists and buy your skip the line tickets for the Eiffel Tower from home and avoid standing in line for 2 to 4 hours. Take the elevators to the top and enjoy the amazing views over Paris.

Highlights:
- Skip the line to the Eiffel Tower and save time
- Once in the tower, stay for as little or as long as you want
- Priority access ticket to the 2nd floor of the Eiffel Tower
Save Time with Skip the Line
You simply book your ticket with us online and on the day of your visit meet with our guide next to the Eiffel Tower to collect your priority access ticket to the Eiffel Tower. You will then be escorted right to the priority entrance, so you can skip the line and spend your time exploring the Eiffel Tower instead of standing in a queue!

Your tickets gives to priority access to the 2. floor of the Eiffel Tower, so you don't have to stand in line. If you wish, you can buy a ticket for the summit (the 3. floor) at the 2. floor and continue up on your own.
You have to expect some queuing time if you like to buy summit tickets at the ticket booth on the 2nd fl.
With more than 7 million people entering it every year, the Eiffel Tower is one of the most visited monument in the world. You'll definitely appreciate saving the 2 to 4 hours of your trip to Paris with skip the line!

If you would like a guided sightseeing tour of Paris before your trip to the Eiffel Tower, then our Eiffel Tower & Sightseeing Tour might be what you're looking for!

Don't be late!
Your ticket will only be valid on the exact date and at the exact time for which you reserved it. The Eiffel Tower personnel will refuse you entrance if you are not on time!
How do I get my tickets?
When your booking is confirmed your e-ticket will be sent directly to your email. Just print it out and bring it to meet the guide.
How long can I stay in the Eiffel Tower?
You can stay for as little or as long as you like.
Are there children's tickets?
No, but children under age 4 are free when accompanied by a paying adult.
Fantastic
4.7
3 customer reviews
Eiffel Tower
Hello, meeting point wasn't easy to find, however, people were very friendly and we found our way. Tour was a little long, however, we were able to stay as long as we wanted once the talk was over. A very pleasant trip.
Organisation
The 'Skip the Line' service was good and as promised.
Unfortunately we still experienced long queues and delays, both going up and coming down the Tower due to the way the large number of visitors are organised by the Eiffel Tower management. There must be a better way...
Brill
We booked our tickets on line, emailed straight away with all details. The tour guide was on time all very well organised we also had the tour guide with us to the 2nd floor of the Tower who showed us some of the main buildings of interest and its history. We throughly enjoyed our visit to the Effel Tower and to skip the line is recommended we would certainly use this Company again.