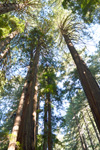 Muir Woods, Sausalito & Alcatraz
Price from £ 99
Experience three of San Francisco's best sights: the beautiful forest Muir Woods, the charming seaside town Sausalito and the infamous Alcatraz Island.

Highlights:
- Spend 2 hours in Muir Woods (entrance ticket is not included, $ 7-10 per person, children free of charge)
- Up to one hour in Sausalito
- Alcatraz ticket included
- Drive over the Golden Gate Bridge

Morning: Muir Woods & Sausalito Tour*
Start your day with a trip to The Muir Woods & Sausalito incl. a photo stop at the Golden Gate Bridge. It is a 4 to 5-hour tour, during which you get to spend more than two hours in the breathtakingly beautiful Muir Woods. You'll have plenty of time to walk around and take in the tranquility of the woods and admire the world's tallest trees, the Redwoods. During December and May you may even get to see Salmon forging their way up stream or down stream to end or begin their life cycle. It is really spectacular! The tour is ideal for those who want to discover the forest without a large tour group holding them back. On our way back, we will drive through the charming town Sausalito, and if time permits, we make a stop so you can stroll along the waterfront of this beautiful seaside town filled with boutique shops and art galleries.

Afternoon: Alcatraz Island*
Complete your tour by visiting the most famous prison in U.S. history. End your day with a trip to the most famous prison in U.S. history. This memorable tour includes a 45-minute presentation 'Doing Time: The Alcatraz House Tour' featuring recordings of actual guards and inmates who lived and worked on the island. It takes between 2-2,5 hours to do the full tour. The ferry leaves roughly every 30 minutes.

* Please note that on some dates the Alcatraz visit is in the morning and the Muir Woods & Sausalito tour in the afternoon!

Important information:
- Your booking is on request, so it can take up to 4 days before we can confirm your booking. If/When confirmed, we will send your voucher/e-ticket to your e-maill address, which you must print and bring a copy with you to San Francisco.
- This tour includes free hotel pick-up and drop-off for guests staying in hotels near the Fisherman's Wharf or Downtown area. Your hotel pick up time will be stated on your voucher/e-ticket, and will be between 7:30 AM and 8:30 AM.
- Are you not staying at a hotel near Fisherman's Wharf and Downtown San Francisco, our tour operator in San Francisco will give you a pick up address as close to your hotel as possible and a pick up time.
- After the tour to Muir Woods and Sausalito, you will be back in San Francisco at around 1:00 PM. You will be dropped off at Alcatraz Landing Pier 33 where you will collect your Alcatraz tickets at the Will Call box office. Alcatraz departure time is specifically booked for a certain time and is not flexible. You will first get your exact Alcatraz ferry departure time from your driver/tour guide while en route to Muir Woods, but it is usually between 1:30 PM to 3:30 PM.
- Children's tickets are available for children from age 11 and under.