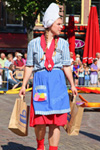 Alkmaar, Cheese Market & Windmills
Price from £ 47
Come with us on an incredible trip to the 750-year-old town of Alkmaar, the scene of the picturesque cheese market, where you can get a real sense of ancient market life.

Highlights:
- 5 hour tour of Alkmaar Market
- Experience an ancient Dutch market
- See a windmill from inside

Experience a Real Dutch Market
Once a buyer has finished, men in white costumes carry the wheels of cheese to a 14th-century Weigh House to tally the bill. At Alkmaar Market you get to experience this, as well as admire the competing teams of the Cheese Carriers' Guild and watch as the cheeses are piled high on the cobblestone square at Alkmaar Market.
After a guided walk around the market and lunch (not included) we will go to Schermerhorn, famous for its three old windmills, one of which we will visit.
The tour is available in English, German and Spanish.
How do I get my tickets?
Shortly after your booking is complete your e-ticket will be send directly to your email, just print it out and bring it on your tour.

Where does the tour begin?
The tour starts at the Lindbergh Excursions office. Please show up 30 minutes before departure.

How long does the tour last?
The tour lasts 5 hours.
Are there children's tickets?
Yes, children's tickets are available for children between age 4-13. Children from age 0-3 are free, when accompanied by a paying adult.