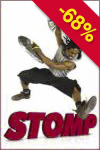 Stomp - London
Ambassadors Theatre
Price from £ 27
Celebrating its 11th sensational year in London, Stomp is now fresher, faster and funnier than ever before.

Highlights:
- Secure your tickets to this exciting show
- Choose the seats you like the most from those available
- Enjoy a show for the whole family
- Save on your tickets Mondays, Thursdays & Fridays

What is Stomp?
Stomp isn't a traditional musical: Stomp is 100% energy.
Stomp uses everything from Zippo lighters, plastic bags, bin lids and even the kitchen sink to hammer out an explosively feel good rhythm. It´s impossible to imagine it until you see, hear and feel Stomp in person!

This multi-award winning show continues to amaze audiences across the world with its universal language of rhythm, theatre, comedy and dance.

In the summer of 2012, Stomp wowed billions when they took centre stage at the epic closing ceremony of the London Olympics. With new routines, new choreography and new music, Stomp is pure stage magic!

How do I get my tickets?
After completing your booking online you will receive an e-ticket by email. Just print out your ticket and bring it with you to the theater, where you show it at the box office.

Who is the show suitable for?
Though Stomp is a show for all ages children under the age of 4 are not allowed inside the theatre.

What is the duration of the show?
Stomp lasts approx. 1 hour and 40 minutes, and does not include an intermission.
Stomp Reviews
"This unique percussion and dance show has evolved over the last 11 years from humble street theatre in Brighton into a worldwide, multimedia sensation"
The Stage
---
"Pure Stage Magic"
Sunday Telegraph
---
"Entrancing, Exhilarating...Terrific"
The Independent
---