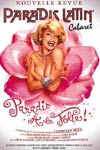 Paradis Latin
Price from £ 86
Paradis Latin is a world-class cabaret in the heart of Paris. Paradis Latin is a cabaret full of history, and it have entertained Paris for many decades.

Highlights:
- Enjoy a spectacular cabaret at the Paradis Latin
- Let your entertain by fabulous dancers, costumes, music and theatrical effects
- Choose between show & champagne or dinner and show
- Dinner & show includes choice of three French gourmet menus

Enjoy a Fabulous Show at Paradis Latin
The Paradis Latin is the most Parisian of the greatest cabarets in Paris. The beautiful venue is located in the heart of Paris' buzzing Latin Quarter just few minutes walking distance from Notre-Dame and the Pantheon.

Paradis Latin is built by Gustave Eiffel in 1889 and is considered a national landmark as well as home to the hit show Paradis à la Folie with its prestigious artists acclaimed by our guests from all over the world.

The show is fun and fabulous cocktail of musical comedy, lavish fanfare and modern ballets featuring the famous French Cancan.

It'll be an unforgettable evening!

You can choose between two types of tickets: Dinner and show or Show and champagne.

You can see the three different menu options here:
- Festival Menu
- Star Menu
- Prestige Menu

How do I get my tickets?
Shortly after your booking is complete your e-ticket will be send directly to your email, just print it out and bring it with you to Paradis Latin.

When does the show start?
If you choose tickets with dinner, then your dinner will be served at 8 PM and the show starts at 9:30 PM.

Whether you choose to book tickets with or without dinner it is a good idea to be at Paradis Latin half an hour before to the show starts.

How long does the show last?
The show lasts approx. 3½ hours.
Is there a dress code?
Yes, the dress code is casual and business casual. Tie, suits or dress are optional. Jeans, shorts, sneakers are not permitted.
Are children allowed?
Paradis Latin is not suitable for children.